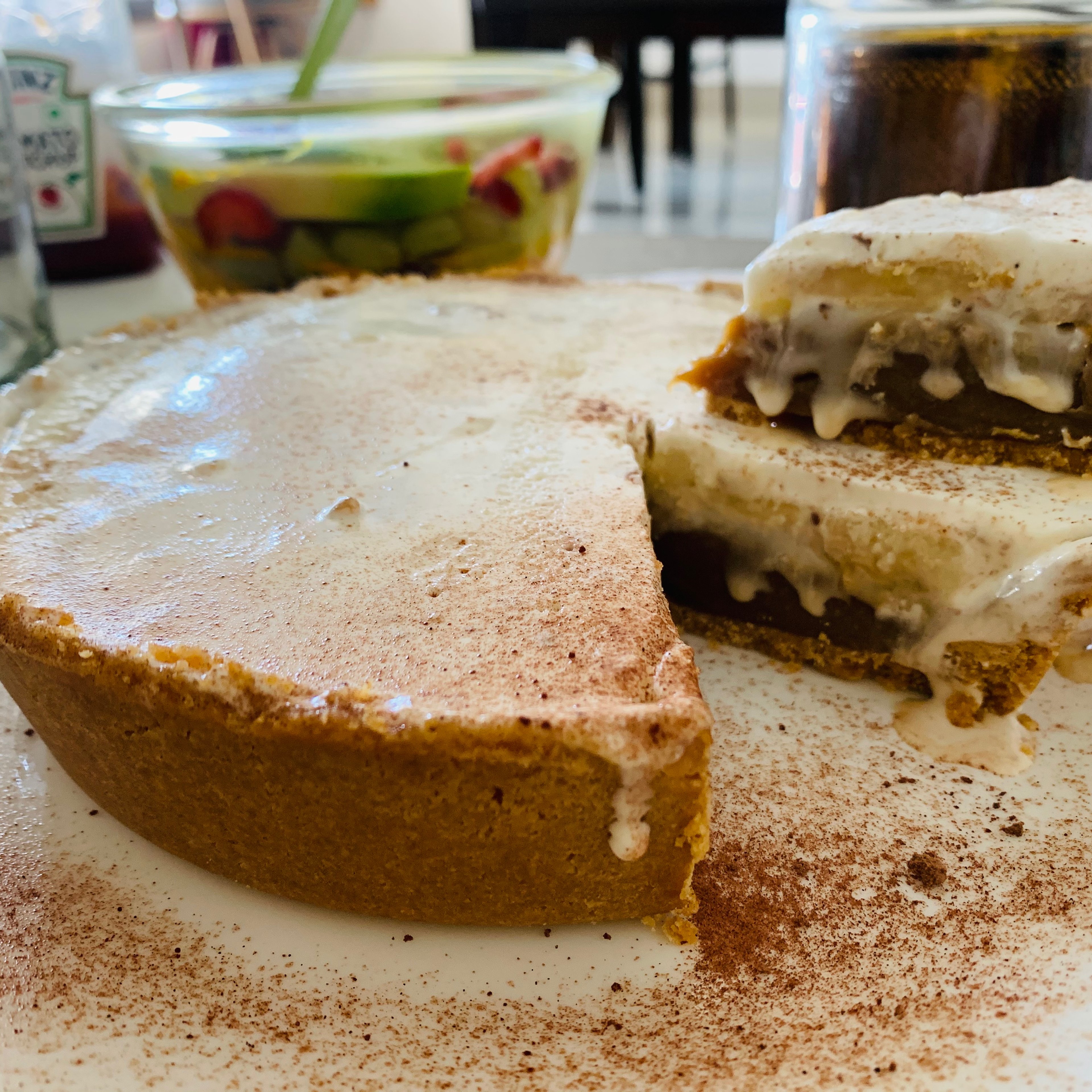 Ingredients
bananas (ripe, for breading)
Utensils
1 bowl, 1 plastic bag (optional), 1 food processor, popover tin, 1 nonstick pan, 1 rubber spatula, knife, hand mixer with beaters, grater
Step 1/ 6

83⅓ g

graham cracker,

41⅔ g

salted butter

1 bowl
1 plastic bag (optional)
1 food processor
popover tin

Making the crust base! Smash the biscuits up in a bag or food processor or you can even do it with your finger, until you have an even crumb, then tip into a bowl. Add the melted butter and the sugar to the biscuit crumb. Mix well to combine. Grease a loose-bottomed cake tin and then tip the biscuit mix into it. Press the biscuit mix into the bottom and up the sides to create a case. It's important the biscuit is packed down really tightly. Place in the freezer while you prepare the caramel

Step 2/ 6

33⅓ g

brown sugar

100 g

sweetened condensed milk

33⅓ g

salted butter

1 nonstick pan
1 rubber spatula

Making the caramel. Put the condensed milk, butter and sugar in a non-stick pan over a low heat. Stir often as it gently bubbles. Don't leave it unstirred as it will easily burn. It will take about 10 minutes to thicken enough to hold its shape briefly when stirred.Take off from heat and let it cool! Take the base out from the freezer and check if it feels really solid. If not place it back for 10 minutes. Pour in the cooled caramel and allow it to settle and level off. Work gently as thickened.

Step 3/ 6

1

bananas (ripe, for breading)

Placing the bananas! The Main flavour! 😋😋😋. Cut 3 bananas in medium thick rounds, Arrange the banana slices in a single layer. Place it in the refrigerator now! And start whipping the cream.

Step 4/ 6

Whipping! Whip the cream until fluffy and soft peaks! Whip the cream into soft peaks and layer up on top of the banana generously – you might not need it all.

Step 5/ 6

Grating the chocolate and Ta...da.... Grate the chocolate on top. Return the banoffee pie to the fridge until you're ready to serve.

Step 6/ 6

Ready to serve To serve, carefully release the pie from the tin by standing it on a large can so that the sides drop away. Now you can gently slide the case onto a plate – you can use a spatula to help – and serve in slices. Enjoy! Keep it chilled – it won't last long!

Enjoy your meal!
More delicious ideas for you