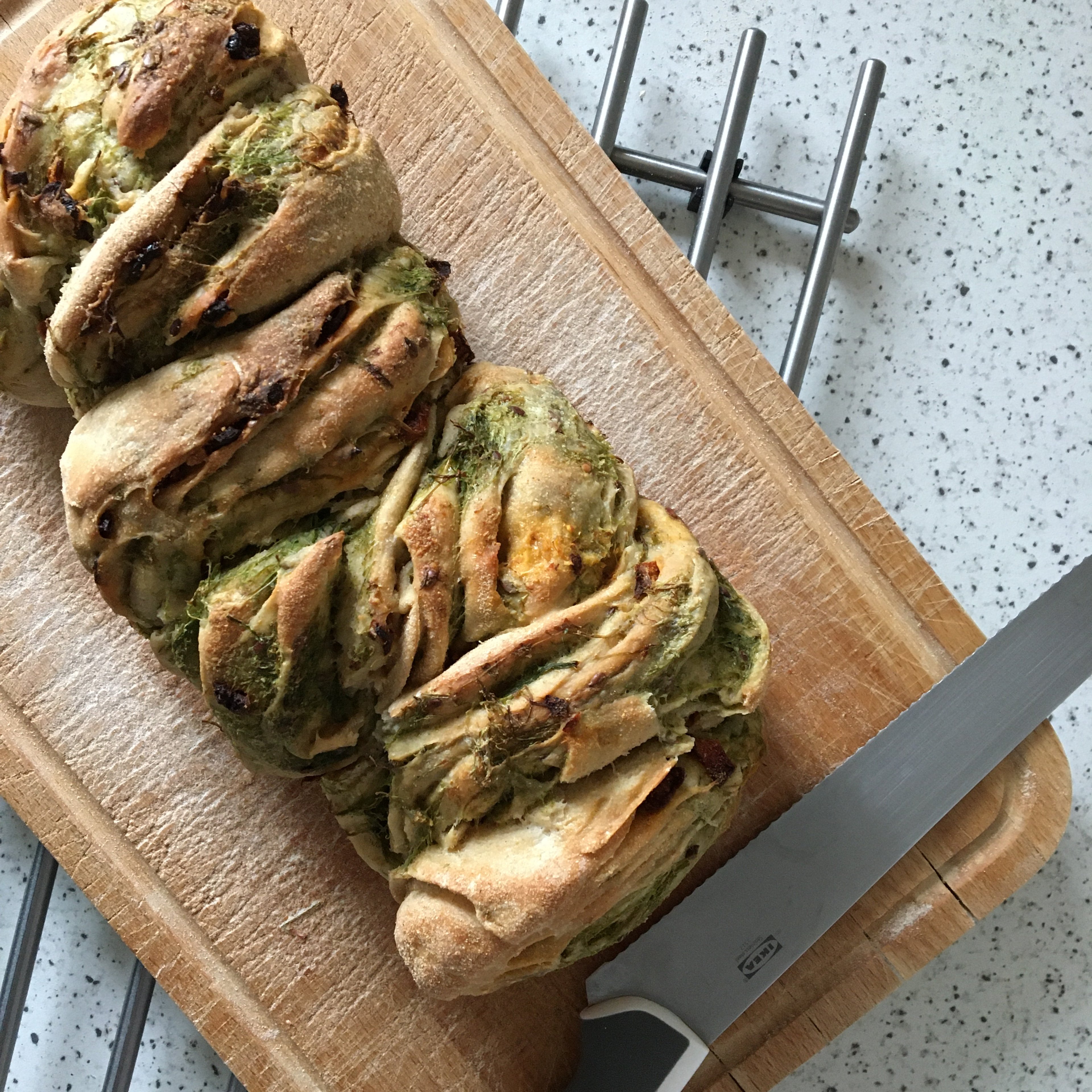 Babka-Bread with Sun-dried Tomato & Spinach Pesto
"I was thinking about the idea and was curious about the result for a long time..."
Ingredients
yeast (instant or active dry)
spinach (sautéed or cooked)
Utensils
bowl (large), kitchen towel (damp), immersion blender/blender, rolling pin , sharp knife/pizza wheel, loaf pan, pastry brush, oven
Step 1/ 9

900 g

flour

2 tsp

salt

1½ tsp

yeast (instant or active dry)

2 tsp

sugar

540 ml

water

bowl (large)
kitchen towel (damp)

To make the dough, mix the flour, salt, sugar and yeast in a large bowl. Make a well in the center and add the water. Mix with a wooden spoon until it comes together. Knead the dough for 6-8 min until smooth and shiny. Drizzle the bottom of your bowl with a little olive oil and put the dough back. Cover with a damp kitchen towel until risen, about 3-3:30 hrs.

Step 2/ 9

50 g

olive oil

salt

pepper

150 g

Parmesan cheese (grated)

300 g

sun-dried tomatoes

400 g

spinach (sautéed or cooked)

50 g

any desired nuts/seeds

immersion blender/blender

To prepare the filling, chop the sun-dried tomatoes if needed. For the spinach pesto, add the cooked or sautéed spinach, 25 g Parmesan, 2 tbsp olive oil and any nut/seeds you prefer to a blender. I used flaxseeds for the first time and hazelnuts for second. Blend into a paste and season with salt and pepper. Set aside until needed.

Step 3/ 9

When the dough has risen and doubled in size, carefully transfer it onto a floured work surface and fold for a few times. With the help of a rolling pin and your hands, flatten the dough into a large rectangle.

Step 4/ 9

Distribute the spinach pesto, sun-dried tomatoes and remaining Parmesan over the flatten dough.

Step 5/ 9

Roll the dough to a long cylinder. Cut in half with a sharp knife or pizza wheel. Twist the two parts together and seal the ends.

Step 6/ 9

Brush bottom and sides of a loaf tin with olive oil. Place the babka into the pan and cover again with damp towel for its second rise around 45-60 min.

Step 7/ 9

Preheat the oven to 200 C and adjust the oven rack to the low third when the dough is nearly done with its second rise.

Step 8/ 9

Brush the top of bread with a tbsp olive oil mixed with some water. Place in the oven and bake for 40-45 min. Check the doneness after 45 min. It should sounds hollow if you tap on its top or bottom. If it needed more time to bake, continue baking up to an hour.

Step 9/ 9

Remove the fully baked bread from the oven, and as soon as it's possible to handle, remove from the loaf tin. Let cool on a rack at least for 20-30 min. Slice and enjoy on its own or with any topping. A simple Capris salad is one of the best companies...

Enjoy your meal!
More delicious ideas for you