Arctic char with winter aromas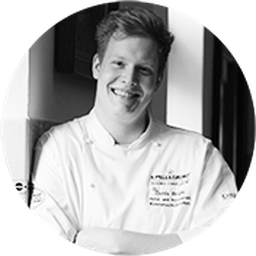 "What is special about this starter is that all of the different flavors you associate with Christmas find themselves on the plate in various forms."
Utensils
fillet knife, cutting board, frying pan, chef's knife, mortar and pestle, large container, plastic wrap, sieve, 2 saucepans, small bowl, baking sheet, mixing bowl, oven, parchment paper, saucepan
Take an
easy quiz

and discover more recipes you'll love!
How-To Videos
How to chop nuts
How to zest citrus fruits
Step 1/ 9

fillet knife
cutting board

Fillet and remove bones from the arctic char.

Step 2/ 9

⅔

bay leaves

1⅔

juniper berries

1

cardamom pods

⅔

star anise

⅛ stick

cinnamon

66⅔ g

salt

66⅔ g

brown sugar

⅓

orange

⅛

vanilla bean

6⅔ g

ginger

frying pan
chef's knife
mortar and pestle
large container

Slice ginger and split and scrape vanilla bean; peel orange. Lightly toast bay leaves, juniper berries, coriander, cardamom, star anise, and cinnamon in a dry frying pan, then add orange peel and ginger and toss. Transfer to a mortar and lightly crush. Transfer to a large container along with salt, brown sugar, and vanilla seeds and bean. Toss to combine.

Step 3/ 9

Coat fish in the spice mixture, cover with plastic wrap, and let marinate for approx. 1 – 1.5 hrs.

Step 4/ 9

⅔

shallots

⅓ tbsp

lime-olive oil

6⅔ g

brown sugar

⅓

bay leaf

⅛ stick

cinnamon

33⅓ ml

orange juice

100 ml

beetroot juice

⅓ tbsp

cornstarch

33⅓ ml

water

⅓

lime

salt to taste

sugar to taste

sieve
chef's knife
2 saucepans
cutting board
small bowl

To make the beetroot reduction, mince shallots. Heat a saucepan over medium heat and add lime-olive oil. Add shallots, and sauté until fragrant. Add brown sugar, bay leaf, and cinnamon and cook until the sugar is caramelized. Deglaze sugar with orange juice and gently simmer for approx. 5 – 10 min. Add beetroot juice and continue to simmer until it is reduced by half, approx. 15 – 20 min. Strain through a sieve into a new saucepan over low heat. Combine cornstarch and water in a small bowl to make a slurry, then add some of it to the beetroot reduction to thicken. Season with salt and sugar to taste, then add the juice of the lime. Set aside.

Step 5/ 9

26⅔ g

walnuts

20 g

butter

26⅔ g

flour

6⅔ g

sugar

⅛ tsp

salt

baking sheet
mixing bowl
oven
parchment paper

Preheat oven to 170°C/350°F. Finely chop walnuts. Combine the butter, flour, sugar, and salt together with walnuts to make a crumble. Spread over a baking sheet lined with parchment paper. Bake for approx. 10 – 12 min. until the crumbles are golden brown and crisp. Set aside to cool.

Step 6/ 9

1

oranges

⅔

lemons

⅓

lime

chef's knife
cutting board
small bowl

For the citrus salad, wash and dry the oranges, lemons, and lime. Peel oranges, lemons, and lime and fillet; set aside. Squeeze juice from the remaining piths into a small bowl.

Step 7/ 9

6⅔ g

brown sugar

26⅔ ml

orange juice

⅓ tbsp

lime-olive oil

honey to taste

salt to taste

Add brown sugar and lime-olive oil to a saucepan over medium-low heat and caramelize. Add orange juice and fresh citrus juice to the pan and simmer until the mixture is reduced by half; add some of the slurry to thicken. Remove from heat. Stir in citrus filets and zest, then season with salt and honey to taste.

Step 8/ 9

Remove fish from marinade and rinse in a water bath.

Step 9/ 9

chervil for garnish

sorrel for garnish

chef's knife
cutting board

Cut into bite-sized pieces, and arrange 3 per plate, alternating with citrus filets. Top with walnut crumble and garnish with chervil, sorrel, and the red beet reduction.

Enjoy your meal!
More delicious ideas for you