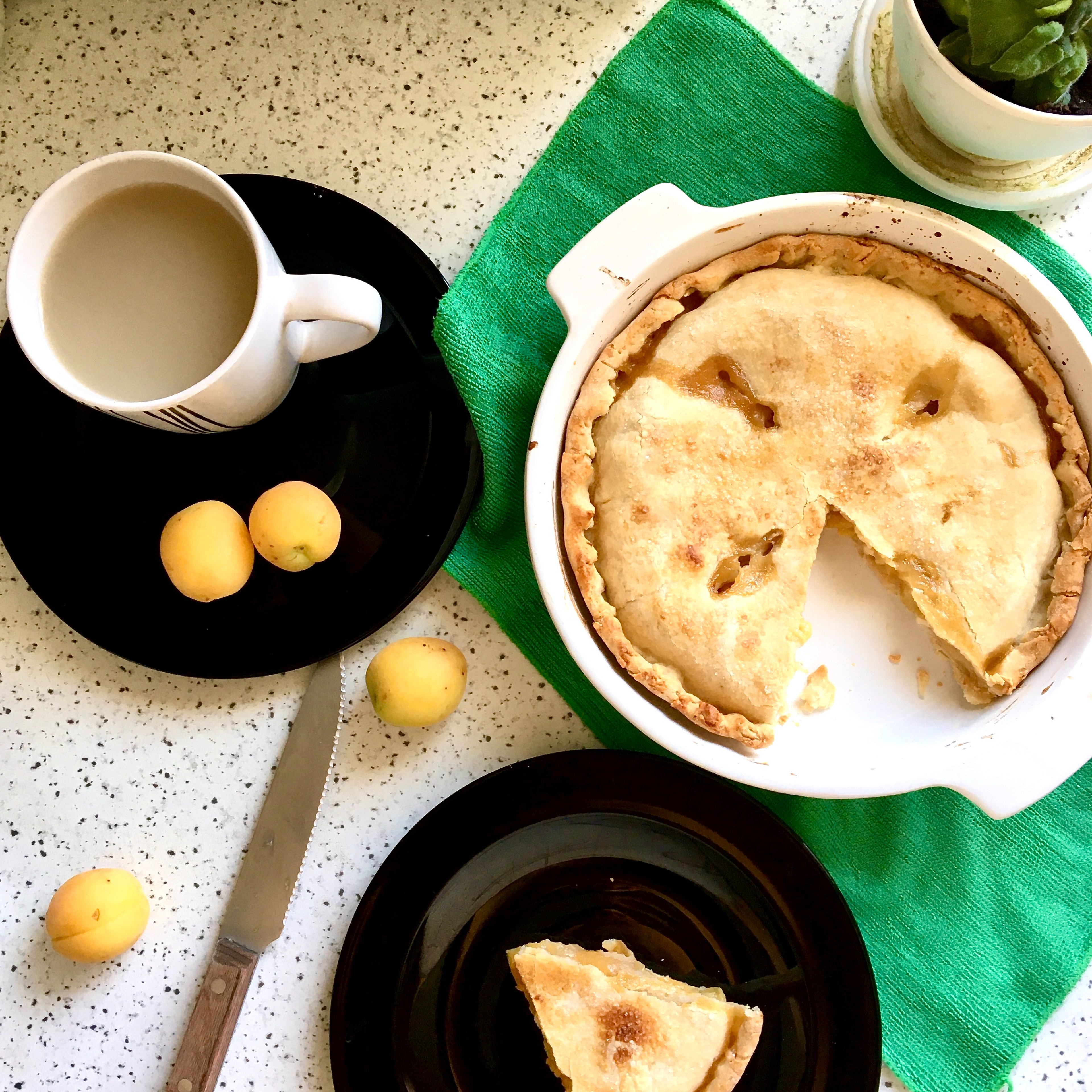 Apricot Pie
"Apricot season, finally...!"
Ingredients
sliced almonds, or sliced apricot cores
Utensils
bowl, fork, plastic wrap (cling film), sauté pan, spatula, oven, rolling pin, pie dish, knife, pastry brush
Step 1/ 5

50 g

flour

13⅓ g

butter (cold)

20 g

cream

3⅓ g

oil

16⅔ g

sugar

⅓ pinch

salt

water (cold)

bowl
fork
plastic wrap (cling film)

To make the dough, add 140 g flour, 30 g cubed and cold butter, 30 g cream, oil, pinch of salt and 15 g sugar to a bowl and mix with a fork until it resembles bread crumb. Add drops of cold water and bring the dough together, using your hand. Divide the dough in half, wrap in cling film and refrigerate until needed, 20 min. or up to two days.

Step 2/ 5

10 g

sliced almonds, or sliced apricot cores

Melt 10 g butter over medium heat. Add 35 g sugar and distribute it evenly onto the pan. Let the sugar caramelize a bit, then carefully add the cream. Stir carefully until the cream bubbles and the mixture is even, then add 10 g flour and mix until the mixture is thickened. Add the almond or apricot core slices and remove from the heat.

Step 3/ 5

Heat the oven to 180 C. Flour your work surface and rolling pin. Roll out one of the refrigerated dough pieces into a 2-3 mm thick circle, large enough to cover the bottom and sides of a pie dish. Transfer to the dish and trim the excess. Add the cream mixture over the pie crust and distribute evenly.

Step 4/ 5

166⅔ g

apricots

sugar (for sprinkling)

Pit and quarter the apricots. Add to the same pan and cook briefly over medium heat, sprinkle with some sugar if desired. When bubbles, remove from the heat and scatter them over the pie, reserving some of the juice for brushing over the top. Roll out remaining dough into a 2-3 mm circle and place over the pie. Trim the excess and seal the edges.

Step 5/ 5

Using a pastry brush, brush the reserved apricot juice from the pan onto the pie. Cut some scores over the top and sprinkle with sugar. Bake at 180 C for 30-35 min. until the top is golden. Serve still warm with a cup of tea or a shot of espresso!

Enjoy your meal!
More delicious ideas for you