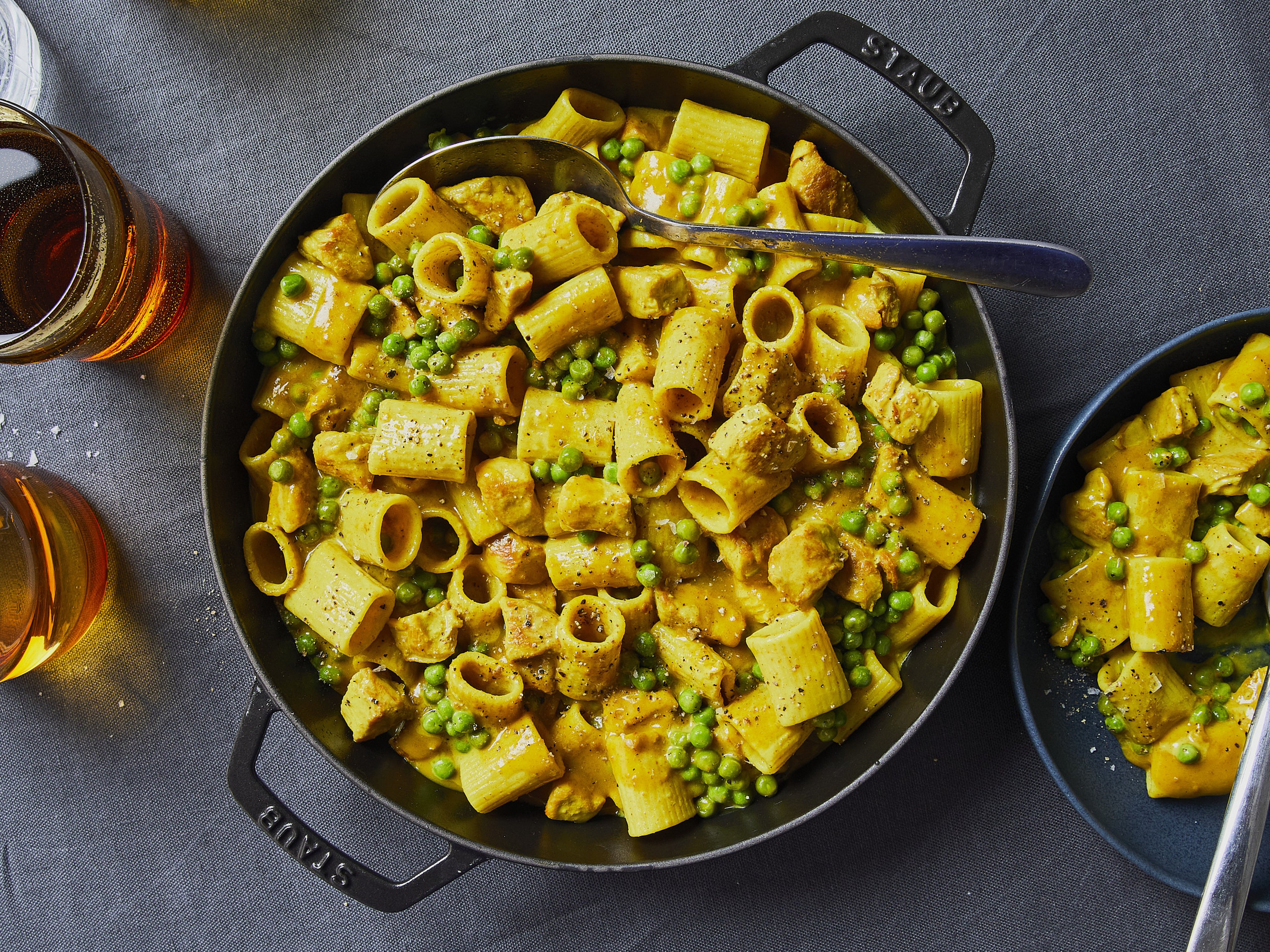 5-ingredient chicken curry pasta
"I've wanted to cook this pasta variation for a long time. Finishing it with coconut milk instead of cream makes the dish uniquely aromatic. It's a little spicy, a little sweet and absolutely delicious. This tasty, pantry-friendly 5-ingredient recipe is perfect for a quick weeknight dinner, and if you're looking to jazz it up, lemongrass, carrot and coriander are all great additions. If you don't have our Curry Power spice mix, you can alternatively use a mix of turmeric, ginger, cumin, coriander, mustard seed, fenugreek, cardamom, and cinnamon."
Ingredients
Kitchen Stories Curry Power seasoning
alternative to Curry Power: turmeric, cumin, ginger and cinnamon
Utensils
pot (large), liquid measuring cup, colander, knife, cutting board, nonstick pan (large), cooking spoon, Curry Power seasoning
Our recommendation for this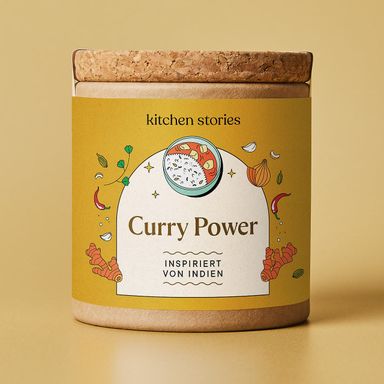 How to make fresh pasta
How to sharpen a knife
How to cut up a whole chicken
Step 1/ 4

pot (large)
liquid measuring cup
colander

Cook the pasta in a large pot of salted water according to package instructions until al dente. Meanwhile, continue with the recipe. Once pasta is al dente, reserve some pasta water (approx. 200 ml/1 cup), then drain pasta in a colander and set aside.

Step 2/ 4

400 g

chicken breasts

1 tbsp

oil (for frying)

2 tsp

Kitchen Stories Curry Power seasoning

alternative to Curry Power: turmeric, cumin, ginger and cinnamon

knife
cutting board
nonstick pan (large)
cooking spoon
Curry Power seasoning

Cut the chicken breast fillets into approx. 3x3 cm/ 1.2x1.2 in. cubes and season with salt. Heat the oil in a large non-stick frying pan over medium heat and fry the chicken until golden brown and cooked through, approx. 4–6 min. Then add the Curry Power spice mixture or the alternative and fry for about 1 min. until aromatic.

Step 3/ 4

200 g

coconut milk

100 g

frozen peas

salt

pepper

Deglaze the pan contents with coconut milk and some pasta water. Heat until the sauce begins to gently simmer. Stir well until the flavors combine and the sauce thickens slightly. Then add the peas and heat through for approx. 2 min. Season to taste with salt and pepper.

Step 4/ 4

Add cooked pasta and mix thoroughly until everything looks glossy and creamy. Serve the finished pasta on deep plates.

Enjoy your meal!
More delicious ideas for you