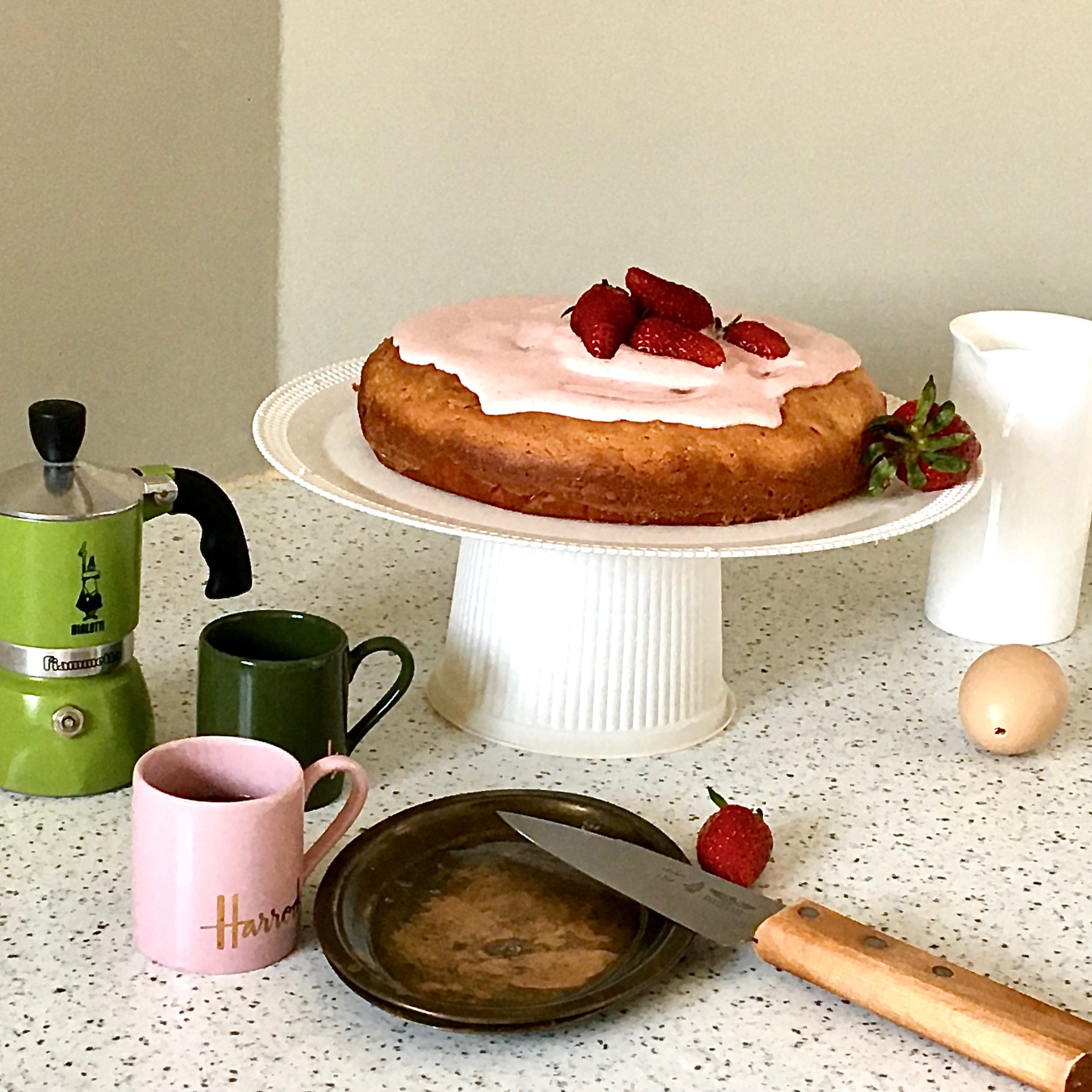 Yogurt Strawberry Shogetten Cake
"Just had a bar of yogurt strawberry schogetten that needs to be used up..."
Ingredients
strawberry yogurt chocolate bars
Utensils
microwave-safe bowl, immersion blender, stand mixer with whisk, 3 bowls, sieve, rubber spatula, baking pan (8 in.), cake platter
Step 1/ 5

12½ g

strawberries

12½ g

cream

12½ g

ricotta cheese

2½ g

butter

2½ g

sugar

microwave-safe bowl
immersion blender

Roughly chop the strawberries and place in a microwave safe bowl. Microwave for 1:30-2 min. on high, until the berries get bubbly and tender. They supposed to lose some water and also their watery structure, resulting a more smooth pliable frosting. Let cool. Then purée with cream, ricotta, butter and sugar. Place in the fridge to firming up until needed.

Step 2/ 5

37½ g

sugar

¼

egg

8¾ g

oil

8¾ g

butter

18¾ g

milk

¼ tbsp

lemon juice

¼ tsp

vanilla extract

¼

lemon zest

¼ tsp

ground ginger

¼ tsp

baking powder

⅛ tsp

baking soda

⅛ tsp

salt

53¾ g

flour

stand mixer with whisk
3 bowls
sieve

Heat the oven to 180 C. Cream together the egg yolk, sugar, oil and butter in a large bowl. Add milk, lemon juice and zest, vanilla extract and ginger. In another bowl, whisk the egg white and salt until stiff peaks form. Sift the flour with both baking agents in third bowl.

Step 3/ 5

12½ g

strawberry yogurt chocolate bars

Whisk the flour into the creamed mixture, then carefully fold in the egg white trying to keep as much air as possible. Chop the schogetten squares, or any chocolate you are using, and fold into the batter. You can mix all of the chocolate in batter or keep some for decorating the top.

Step 4/ 5

Scrape the batter to a prepared pan and smooth the top. Top with remaining chocolates, if there are any. Bake for 30 min. or until a toothpick inserted into the center comes out clean. Let cool completely before frosting.

Step 5/ 5

Once the cake has cooled completely, place it onto a cake platter and spread the frosting on top. Decorate with some strawberries if desired. Enjoy!

Enjoy your meal!
More delicious ideas for you