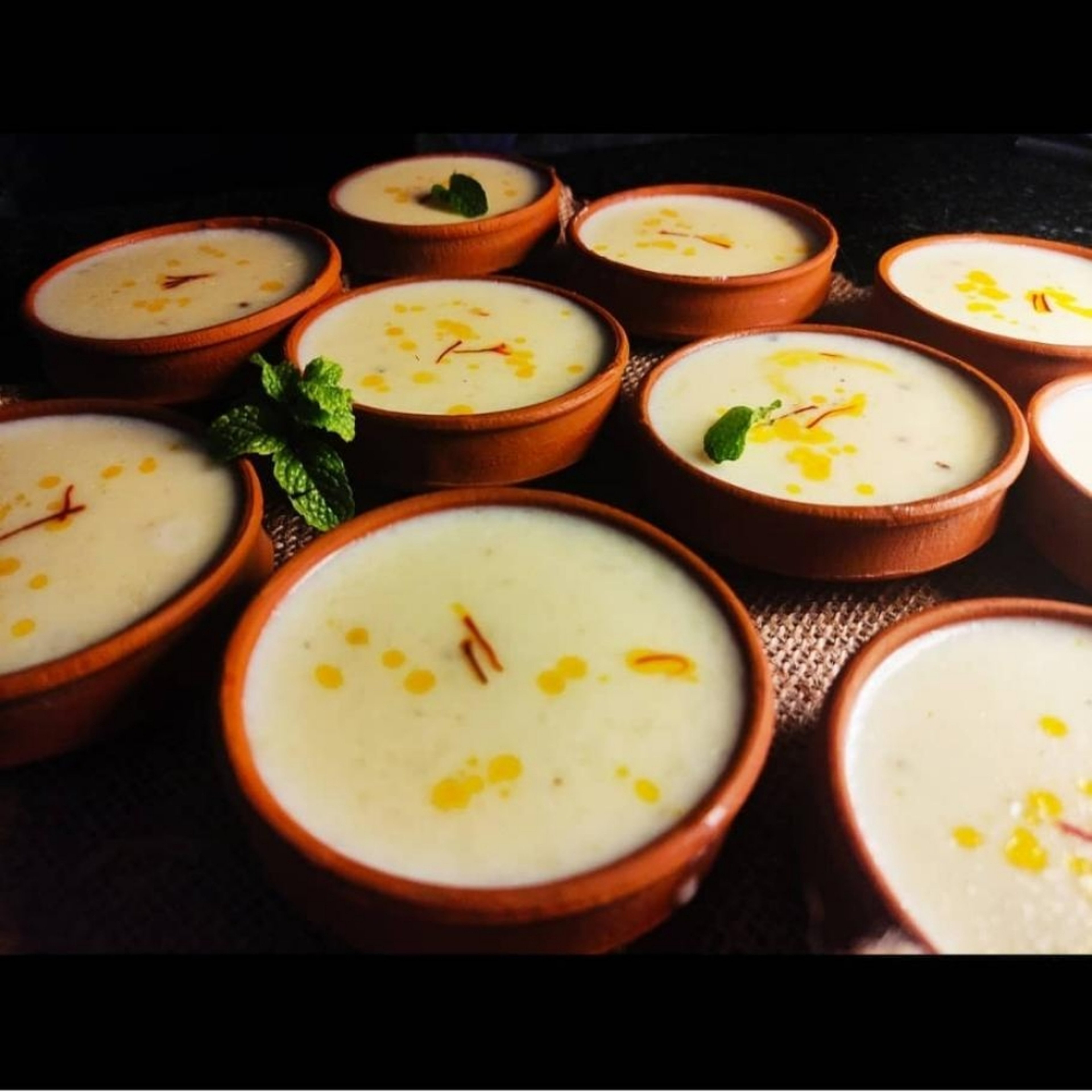 Phirni
"Phirni is a type of pudding from the Indian Subcontinent, made by boiling milk, sugar, and rice. It is a very simple and easy recipe, and is super yummy. It can be enjoyed after a super special lunch or dinner, or just like that at any time of the day. Making the perfect Phirni might take a few rounds of practice, bt once you master it, it can be your go to Dessert forever :) Phirnis can also be made in different flavors like Mango, Paan, Badaam, Chocolate etc. But the classic is my favourite :)"
Ingredients
1/2 Cup Milk from the 1 Litre Milk (Set aside)
Utensils
Heavy Bottom Vessel, Shallow Clay / Teracotta bowls
Step 1/ 10

4 tbsp

basmati rice

1 tsp

Kewra Water

We will first make a coarse rice paste. Wash the Basmati Rice thoroughly under running water , and put it in the mixer grinder. To that, add 1/2 cup of milk, and grind to make a coarse paste

Step 2/ 10

Start boiling the full fat milk in a heavy bottom vessel

Step 3/ 10

Once the milk starts to boil, pour in the rice paste slowly, while constantly stirring the milk. Do not let the milk sit, while pouring the rice paste.This will avoid the rice paste from forming lumps, and give the dish a creamy smooth texture. Keep the flame on medium.

Step 4/ 10

Keep stirring the mixture occassionally for 15-20 mins

Step 5/ 10

8 tbsp

sugar

Saffron Strands

½ tsp

Cardamom Powder

The mixture will thicken and you will also start noticing the grounded rice grains have swelled up and are visible. At this point add the sugar , Cardamom powder, a few strands of saffron and Kewra Water. Mix everything well, and wait for the mixture to thicken a bit more

Step 6/ 10

Once the mixture starts forming bubbles on top and has thickened well, lower the flame and wait for 2more mins. Be very careful at this time(the mixture might start sticking to the bottom of the vessel and get burnt).The mixture should be of slow drop consistency

Step 7/ 10

Shallow Clay / Teracotta bowls

Turn off the flame and immediately pour out on shallow bowls( preferably clay / terracotta materials- it helps to set the Phirni better)

Step 8/ 10

Top it up with saffron strands for garnishing and let it cool down to room temperature

Step 9/ 10

Once set, cover it and put it in the refrigerator for at least 2 hours

Step 10/ 10

Tadaaaaa... Your super delicious Phirni is ready to be served and enjoyed

Enjoy your meal!
More delicious ideas for you