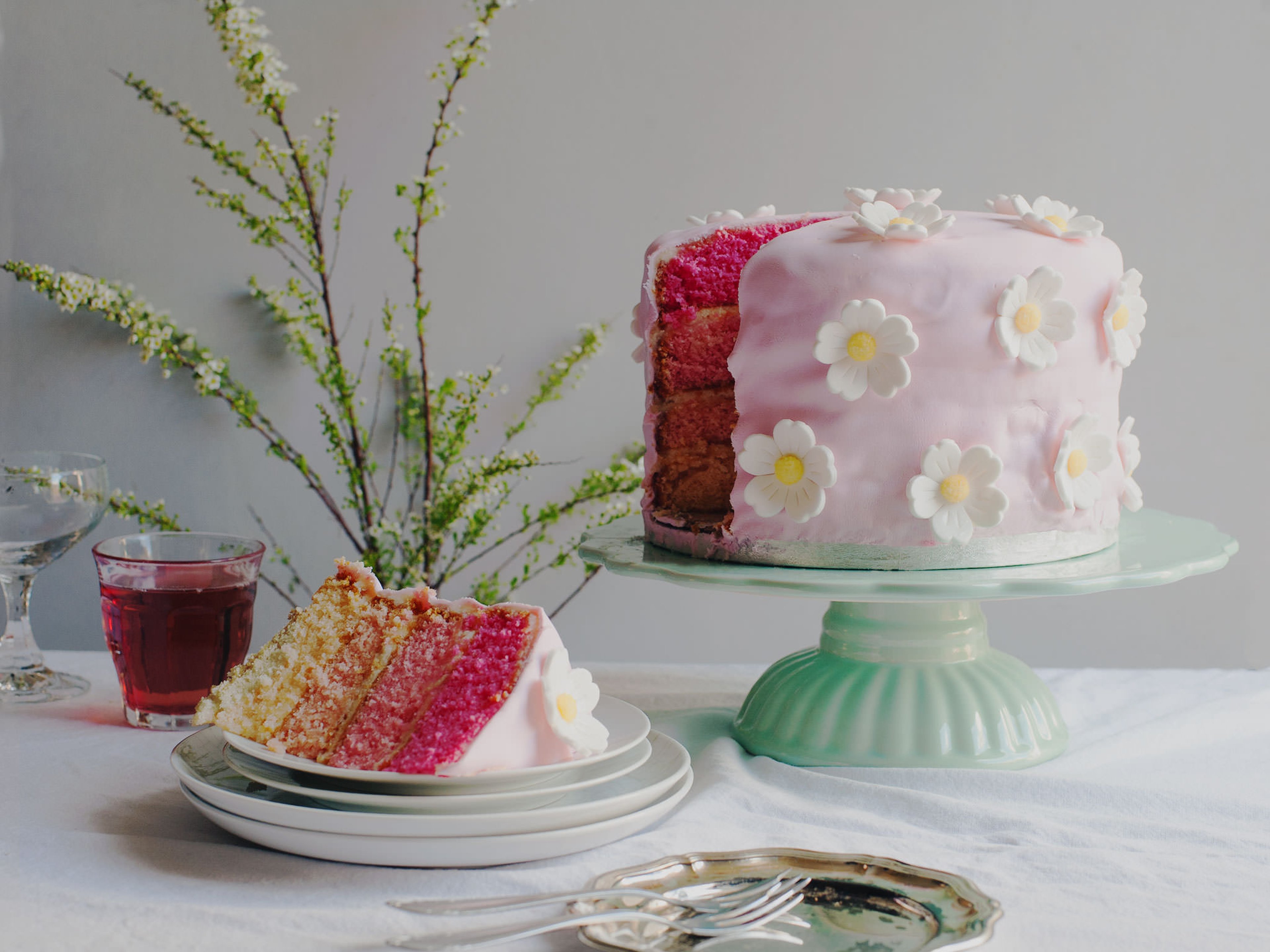 Ombré cake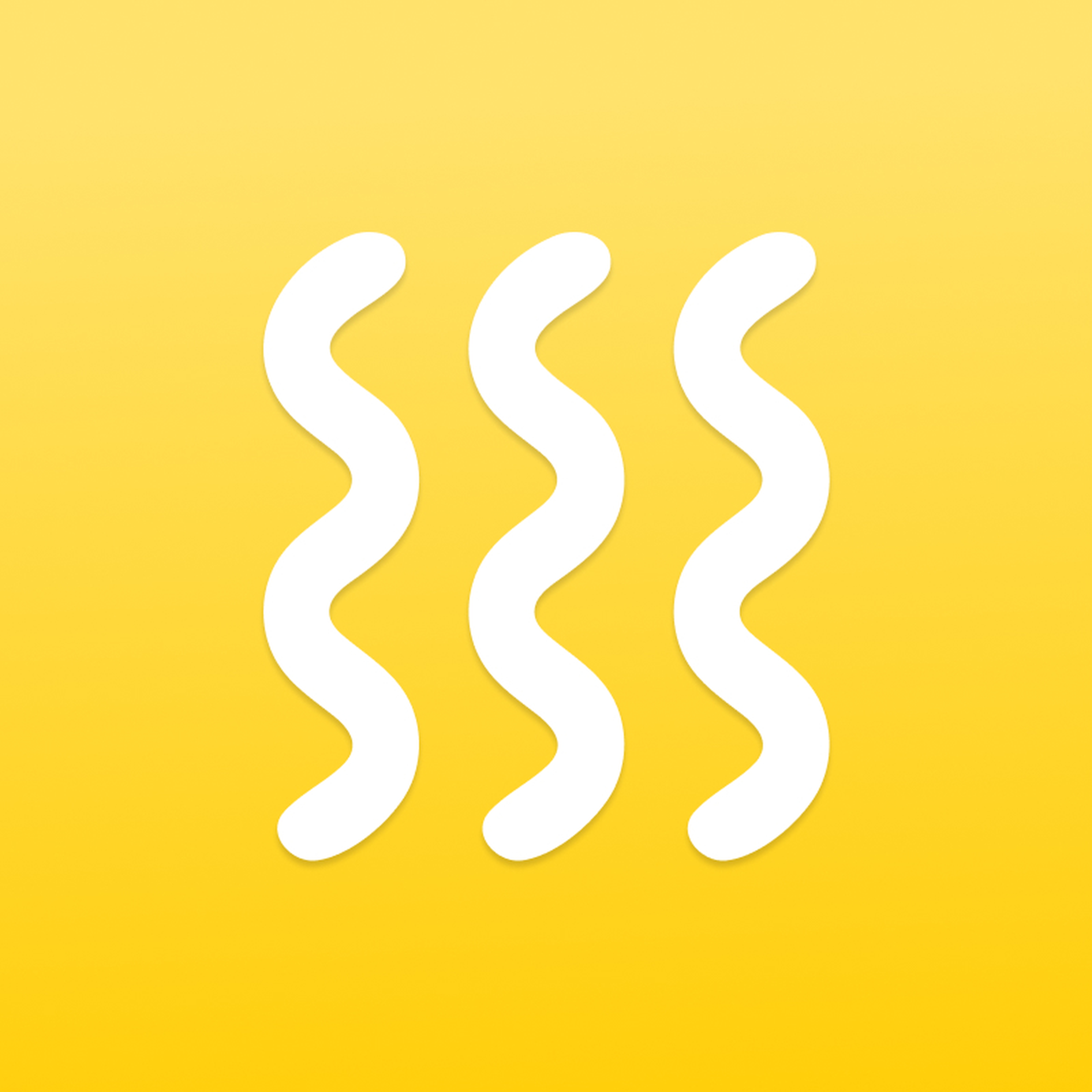 Editorial Team at Kitchen Stories
Ingredients
vanilla extract (divided)
pink food coloring for dyeing
powdered sugar for dusting
Utensils
mixing bowl, 4 cake pans (20-cm/8-inch), parchment paper, rubber spatula, stand mixer or hand mixer with beaters, cooling rack, 4 mixing bowls, cake board (20-cm/8-inch), serrated knife, offset spatula, sewing needle or pin, rolling pin, bench scraper or fondant smoother, paring knife or dough cutter
How-To Videos
How to level cakes
How to Prepare a Cake Pan
How to apply fondant
How to crumb coat a cake
Step 1/ 9

83⅓ g

all-purpose flour

⅔

eggs

⅔ tsp

baking powder

⅛ tsp

salt

58⅓ g

butter

83⅓ g

sugar

flour for dusting

butter for greasing

mixing bowl
4 cake pans (20-cm/8-inch)
parchment paper
rubber spatula
stand mixer or hand mixer with beaters

Set butter and eggs out to reach room temperature. Preheat oven to 175°C/350°F. Butter cake pans, line bottoms with parchment paper, and dust with flour, tapping out excess. Whisk together flour, baking powder, and salt and set aside. Cream some of the butter and sugar until smooth, then add eggs one at a time, beating well after each.

Step 2/ 9

Stir in some of the vanilla and continue to beat for another couple of minutes until light and fluffy.

Step 3/ 9

Add flour mixture to butter mixture in thirds, alternating with some of the milk, until all is combined.

Step 4/ 9

pink food coloring for dyeing

cooling rack
4 mixing bowls

To dye cake layers, divide batter evenly among four bowls. Tint each bowl a different hue by gradually increasing number of drop of food coloring you add to each bowl. Transfer batter to cake pans. Bake cakes for approx. 20 – 30 minutes, or until a toothpick inserted in center of cakes comes out clean. Let cakes cool in pans for approx. 10 minutes before turning them out to cool completely on cooling rack.

Step 5/ 9

41⅔ g

butter

100 g

powdered sugar

15 ml

whole milk

⅛ tsp

vanilla extract

⅛ tsp

salt

cake board (20-cm/8-inch)
serrated knife

To make buttercream, beat sugar and butter on low speed until combined, then increase speed to medium and beat until light and fluffy. Add some of the milk, vanilla, and salt, and mix for another minute or two. If buttercream is too stiff, add a little milk; if it's too loose, add a little more sugar. When cakes are cool, level them by slicing a thin, even layer of off of their tops. Dab some buttercream onto center of cake board and place darkest cake on top of it. Spread even layer of buttercream over the cake, then place next lightest cake on top. Continue this way until lightest cake is on top. Stick cake in refrigerator to chill for at least 15 minutes.

Step 6/ 9

When cake is chilled, coat outside with remaining buttercream, reserving a small amount if you'd like to write on cake later. Refrigerate for approx. 15 minutes.

Step 7/ 9

⅛ kg

fondant (dyed pink)

powdered sugar

sewing needle or pin
rolling pin

Dust work surface and fondant with powdered sugar and knead until satiny and smooth, dusting more powdered sugar onto work surface as needed. Roll fondant evenly until it is at least the diameter of cake plus two times the height. Use a sewing needle or pin to deflate any air bubbles. Trim excess.

Step 8/ 9

bench scraper or fondant smoother
paring knife or dough cutter

Drape fondant over rolling pin and transfer it over cake, making sure it covers all sides with plenty of overhang. Remove pleats from fondant by lifting fondant up and smoothing it along sides of cake all the way around. Use a sharp paring knife to trim off excess fondant up to about 1.25-cm or ½-inch from bottom of the cake. Use a bench scraper, fondant smoother, or your hands to smooth fondant down toward bottom seam, gently pressing fondant down onto cake board. Trim fondant a bit closer to cake this time, but not all the way to the seam. Continue to smooth fondant down and remove any air bubbles. For final trim, cut the fondant at a 45-degree angle, pulling out any excess away from the board.

Step 9/ 9

Transfer cake to serving plate, finish decorating it as you prefer, and enjoy!

Enjoy your meal!
More delicious ideas for you