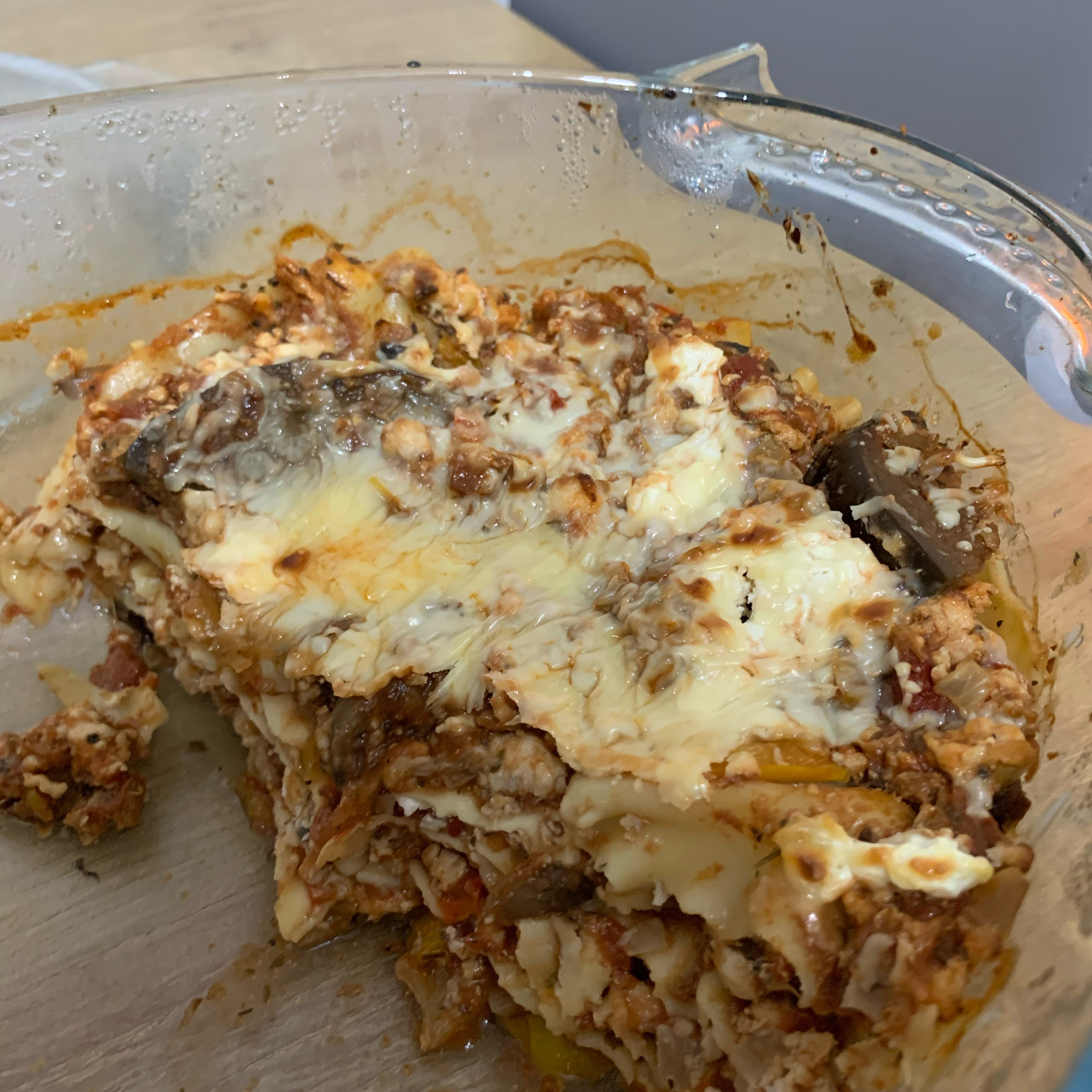 Step 1/ 3

166⅔ g

Turkey mince

⅔

onions

⅔ cloves

garlic

Preheat oven to 190c. Add the chopped onion, garlic and turkey mince to the pan. Cook until the mice is browned and then remove from pan.

Step 2/ 3

83⅓ g

mixed mushrooms

⅓

Aubergine

⅛

Squash

⅔

pepper

⅔

Tin chopped tomato

⅓ tbsp

tomato purée (passata)

⅓ tsp

oregano

⅓ tsp

rosemary

⅓ tsp

basil

2 beef stock cubes

133⅓ ml

water

Add all the chopped vegetables and all the herbs and cook for about 10 minutes until all cooked. Once the vegetables are cooked add the beef stock slowly to deglaze the bottom of the pan. Once everything is deglazed and you have a thick sauce, add the tins of chopped tomatoes and tomato purée along with the cooked meat. Stir until combined.

Step 3/ 3

33⅓ g

Low fat cheese

5 sheets

Uncooked lasagne sheets

83⅓ g

Low fat cottage cheese

Now it's time to start assembling the lasagne. Start by adding some sauce to the bottom of the dish, then add a couple spoonfuls of cottage cheese and grate the low fat cheese on top. Then top with lasagne sheets, making sure to reach the edges. Repeat all these steps until you run out of sauce. Cover the fish and put in the oven for 30 minutes. Then remove lid and let cheese brown for 15 minutes.

Enjoy your meal!
More delicious ideas for you