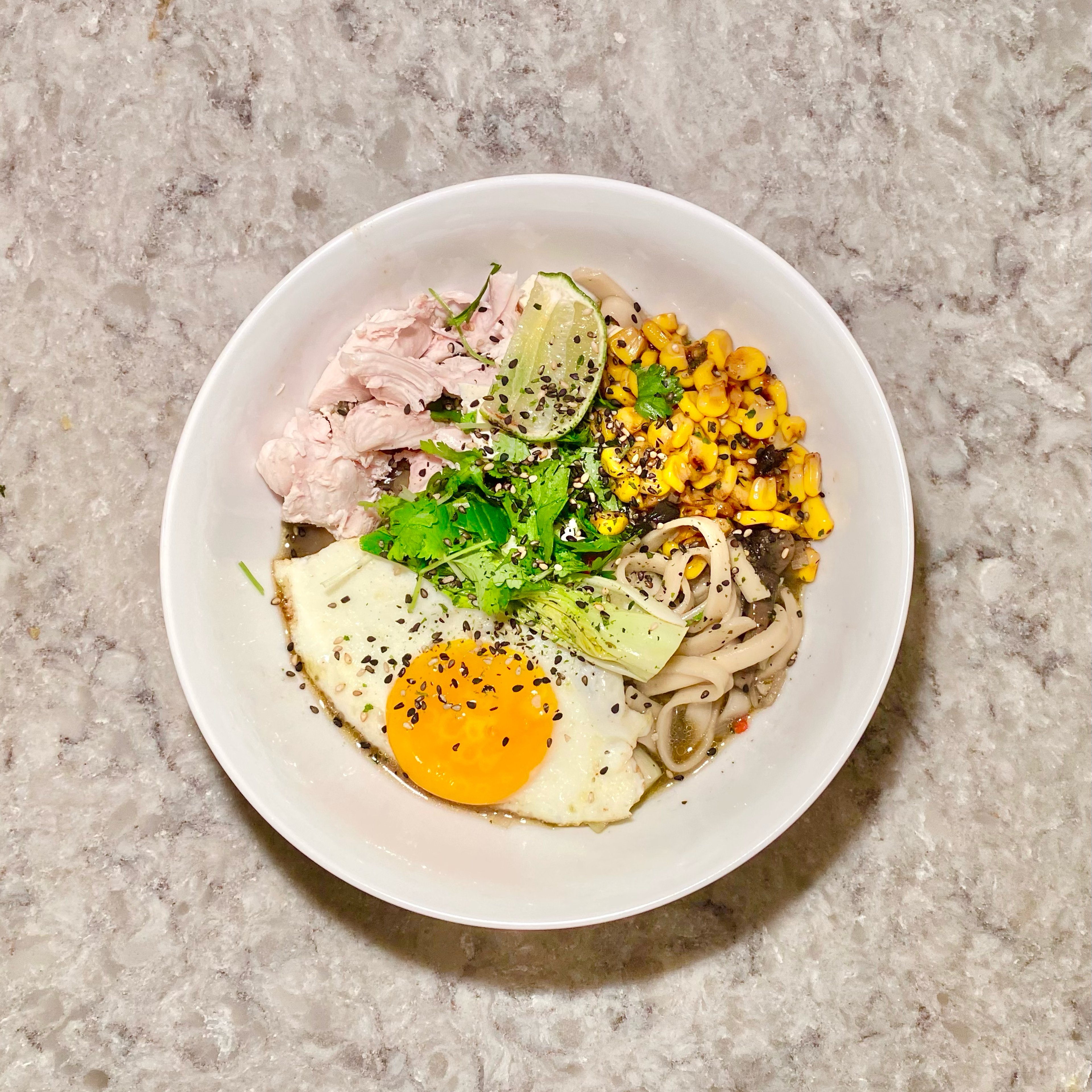 Step 1/ 7

½

whole chicken

½

orange

1

onions

salt

½ tbsp

oil

1½ cloves

garlic

Peel the orange (preferably a pretty sour one) and cut into pieces. Chop 2 onions in big pieces and crush 5 cloves of garlic. Add oil into a deep oven pan. Stuff the chicken with garlic, onion and orange. Add salt, pepper and grill in the oven for about 1h or until it's ready on 175 degrees Celsius. Add aluminium foil if needed to prevent burning the surface. Let cool for about 30 min - 1h.

Step 2/ 7

Cut the chicken and save all the pieces for future dishes. Save the liquid from the bottom of the pan as well! Roast the chicken hull (including bones) on 200 degrees Celsius for about 20 minutes.

Step 3/ 7

1½

carrots

2 stalks

celery

1½

onions

salt

1½ cloves

garlic

Chop 3 onions, 3 carrots and the celery stalks. Smash 4 garlic cloves. Fry it in 25g butter for about 5 min. Add the roasted chicken hull along with the chicken fat from the bottom of the oven pan. Let it cook with a lid for about 15 min on medium temp. Add 2 litres of water and salt and leave on low temp without a lid for about 2h.

Step 4/ 7

1½

shallots

½

lime

½ tbsp

oyster sauce

½ tbsp

soy sauce

½ tsp

ground coriander

¼ tsp

ground ginger

½ tbsp

agave syrup

1½ cloves

garlic

½ tsp

chili

1 tbsp

cilantro

Time to start cooking the actual soup; chop the shallots in fine pieces. Smash 3 garlic cloves and chop them up as well. Fry it in sesame oil or other preferred oil until golden. Add the other spices (except cayenne) ground coriander, ground ginger, chopped chilli, juice from the lime, agave syrup and the stalks from the cilantro. Add some of the chicken stock that have been cooking for 2h. Save the rest of the liquid in your fridge for future dishes.

Step 5/ 7

⅛ tsp

cayenne pepper

12½ g

butter

125 g

sweet corn

Add a big chunk of butter to a heated frying pan. When the butter is golden brown, add sweet corn, ground coriander, cayenne and salt.

Step 6/ 7

250 g

udon noodles

½ head

bok choy

Add the udon noodles to the soup and let it simmer for a while. When the noodles are almost ready, add chunks of bok choi and chunks of chicken meat.

Step 7/ 7

Serve the soup in a deep bowl. Add the corn on top along with chopped fresh cilantro, an poached or fried egg and furikake.

Enjoy your meal!
More delicious ideas for you