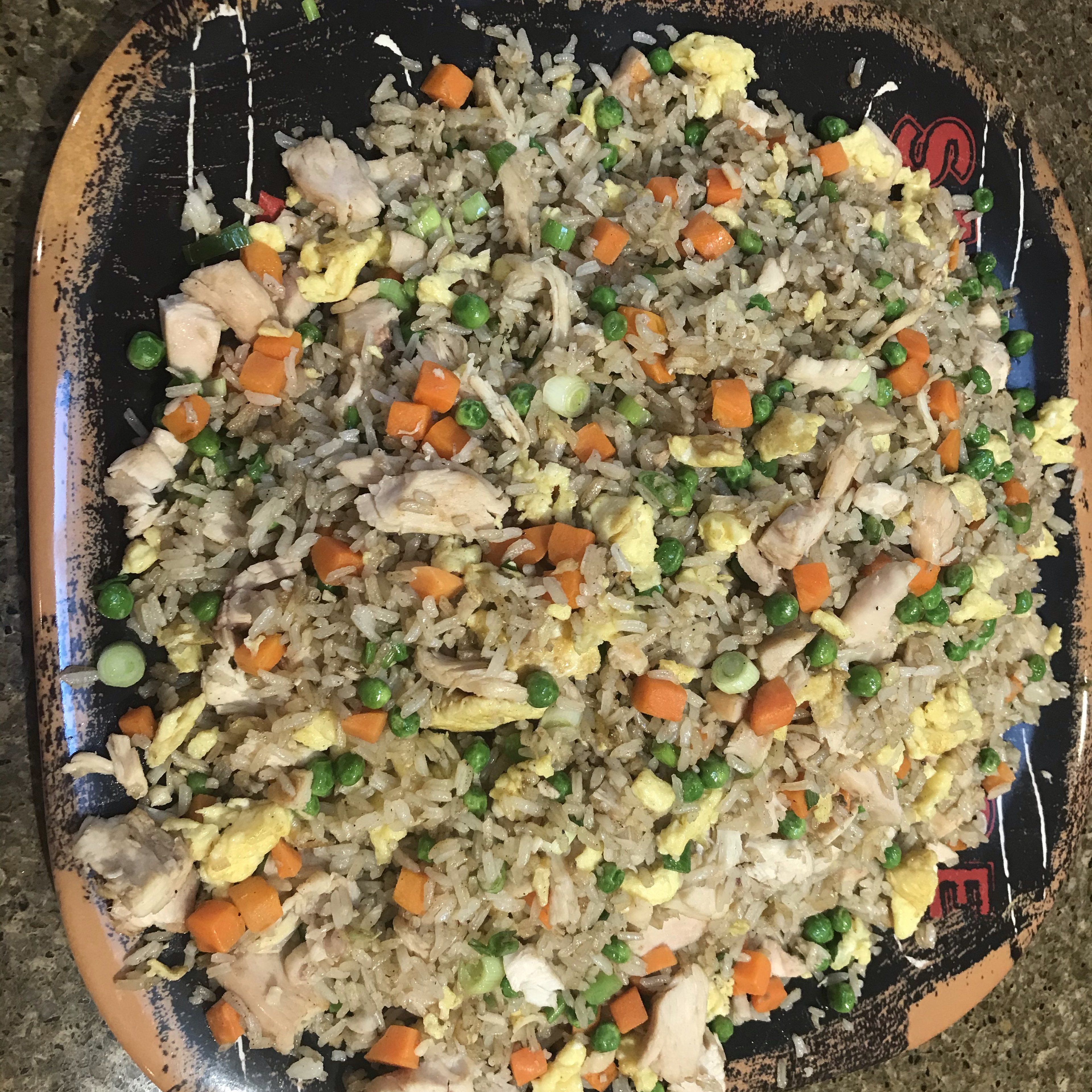 Chicken Fries Rice
"This is a delicious gluten free chicken fried rice to be made on a Blackstone griddle, but could be made on any griddle with ample space. Family enjoyed so much said they could eat this everyday."
Step 1/ 9

Make the rice the night before. Put it in a gallon ziplock and in the freezer for 30 minutes. Take it out and put in the refrigerator until time to cook the next day.

Step 2/ 9

Prep all ingredients as you will be cooking them fairly quickly. Combine soy sauce and sesame oil into one mixture.

Step 3/ 9

Heat up Blackstone griddle to low-medium heat on 3 left burners. Leave right most burner off.

Step 4/ 9

½ bag

Frozen Peas & Carrots

2 cloves

garlic

Mix garlic and peas & carrots on the griddle. Stir until almost cooked. Place steaming cover over and add water to steam. Keep covered for 30 seconds. When cooked, move garlic and pea & carrot mixture to far right on griddle.

Step 5/ 9

Place some oil on the griddle and smear it around with spatula. Place chicken down and toss until cooked. When cooked, move it to the right.

Step 6/ 9

Turn heat up on left 3 burners to medium-high. Place rice down and toss with spatulas until it doesn't clump. It needs to be really dried out. When done, move it to the right.

Step 7/ 9

Turn down 3 left burners to low-medium. Place scrambled eggs down. Don't allow them to mix with anything else until cooked. Cut into smaller pieces with spatulas.

Step 8/ 9

Combine all cooked ingredients together. Add green onions and mix up.

Step 9/ 9

¾ tbsp

sesame oil

¾ tbsp

soy sauce

Add 1/2 of soy sauce & sesame oil mixture and toss. Add remaining mixture and toss again. Done!

Enjoy your meal!
More delicious ideas for you